The Ladies offers something for players of all standards. Our First Team is highly competitive, playing in National Championship 3. Meanwhile, the Seconds are no less competitive, but with an added dose of "not too serious". After winning Midland Division 2 in the 2016-17 season, they enjoyed a successful first season in the top division, finishing in the top half. For the 2019-20 season, we also have the 3s, our girls development team, incorporating ages 12-15 and beyond. Finally, for those who don't want to commit to regular competitive fixtures, we are happy for members to come along for training and a hit around.
We're keen. In the depths of winter, when the pitches are all frozen, we have an indoor team playing midweek fixtures. In the summer we play mixed social hockey with the men and some of the older Kobras.
Having started as the Kinross Ladies Hockey club in 1974, the team now has a blend of young and experience, bound together by a friendly atmosphere and great good humour.
Tours
An annual tour has become an integral part of the Ladies season. Usually at the end of May or early June we take to the road (or rails or skies) in search of good fun and great hockey. There's always a theme; fancy dress; a tour kit (never lose sight of it!); and of course hockey!
How much does it cost?
The 2019-20 subscriptions have been set at 10 payments of £21 for full members or £16 for youth players (under 18 years of age, or students). Non-competitive members rate is £9.50 and part-season subscriptions may be available on request.
WHERE DO I SIGN UP?
If you are interested in joining the club you can contact the ladies secretary via the contacts page.
LADIES TEAMS IN ACTION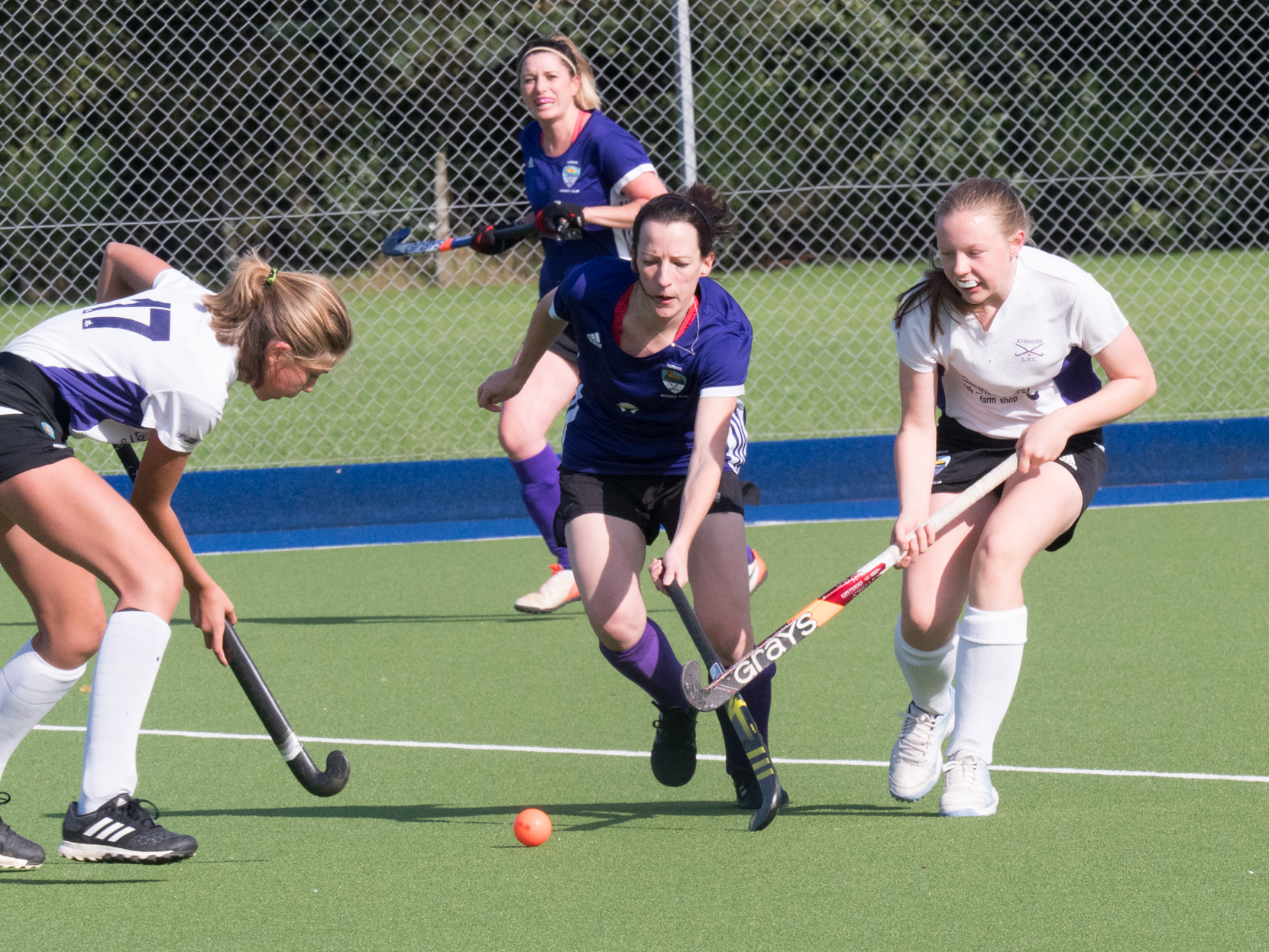 Training
Wednesdays
Development squad 1800-1900
Main training 1900-2030
MATCHES
Mostly Saturdays
First team
Coach: Ewan Ogilvie
Captain: Amy Weatherup
Vice-captain: Philippa Orr
The 1s play in the National Championship League.
SECOND TEAM
Captain: Katie Clayton
Vice-captain: Wendy Marshall
The 2s play in Midland Division 1.
THIRD (Girls DEVELOPMENT) TEAM
Coach: Kirsty Dunn
Captain: Tilly Kay
The 3s play in Midland Division 2.
INDOOR TEAM
Captain: Beth Robinson
| | | |
| --- | --- | --- |
| 2015 | Newcastle | Pub golf |
| 2014 | York | Cartoon Characters |
| 2011 | Glasgow | Playing in Pink Charity Tournament |
| 2010 | Skye/Plockton | Scottish Highlands & Islands Tour Skye |
| 2009 | Loch Insh | Famous Scots |
| 2008 | Newcastle | Rockstars |
| 2007 | Milan | The Catwalk Tour |
| 2006 | Manchester | Female Icons |
| 2005 | Belfast | Miss World Tour |
| 2004 | York | The "Chocolate" Tour |
| 2003 | Amsterdam | Flowers |
| 2002 | Dublin | Fish |
| 2001 | Windermere | Gladiators |
| 2000 | Morpeth | Little Misses Tour |
| 1999 | Dublin | DDD |
| 1998 | Harrogate | GIN Tour |
| 1997 | Morpeth | TOT Tour |
| 1996 | Aberdeen | NFC Tour (UK & Ireland Corporate Games) |
| 1995 | Aberdeen | The 2nd tour! |
| 1992 | Selkirk | Our 1st tour! |
| | |
| --- | --- |
| 2016/17 | Division 2 Winners |
| 2013/14 | Bell Trophy Winners |
| | Midland Division 1 Winners |
| | Knock Out Cup Winners |
| 2012/13 | Midland Division 1 Winners |
| | League Cup Winners |
| 2011/12 | Midland Division 1 Winners |
| | League Cup Winners |
| | Corporation Cup (7s) Winners |
| | Knock Out Cup Winners |
| | Knock Out Plate Runners-Up (Kinross 2s) |
| 2010/11 | Midland Division 1 Winners |
| | Knock Out Cup Winners |
| | League Cup Winners |
| | Corporation Cup (7s) Winners |
| 2009/10 | Midland Division 1 Winners |
| | Corporation Cup (7s) Winners |
| | League Cup Plate Winners |
| | Midland Knock Out Cup Runners-Up |
| | Scottish District Cup Runners-Up |
| 2008/09 | Bell Trophy Winners |
| | Midland Knock Out Cup Winners |
| | Newcastle HC Charity Shield Tournament Winners (hosted by KLHC) |
| 2007/08 | Midland Division 1 Winners |
| | Bell Trophy Winners |
| | Newcastle HC Charity Shield Tournament Winners |
| 2006/07 | Midland League Cup Winners |
| | Scottish District Cup Runners-Up |
| | Midland Knock Out Cup Runners-Up |
| 2004/05 | Midland Division 1 Winners |
| | Midland Knock Out Cup Winners |
| 2003/04 | Midland Division 1 Winners |
| | Bell Trophy Winners |
| | Midland Knock Out Plate Winners |
| | Scottish District Plate Runners-Up |
| 2002/03 | Midland Knock Out Cup Runners-Up |
| | Midland Indoor Division 2 Winners |
| 2000/01 | Midland Indoor Division 2 Winners |
| | Windermere LHC Invitation Tournament Winners |
| 1999/00 | Bell Trophy Winners |
| 1995/96 | Midland Indoor Division 3 Winners |
| | UK & Ireland Corporate Games Winners (Aberdeen) |
| 1993/94 | Goodall Cup Winners (Bell Baxter Annual Match) |
| 1991/92 | Midland Division 2 Winners |
| | Midland Knock Out Plate Winners |
| | Scottish District Plate Runners-Up |
| | Bell Baxter 7-aside Tournament Winners |
| 1989/90 | Midland Division 2 Winners |
| 1985/86 | Midland Division 2 Winners |
| 1979/80 | Midland Division 2 Winners |